A big thank you to our members and friends who advocated for funding for the Blue Hills. 
And a big thank you to the legislators who worked with our members, including Senator Walter Timilty, and State Representatives Bill Dricoll, Bill Galvin, Dan Cullinane, Bruce Ayers, Mark Cusack.  We are grateful for their work to include funding in the budget for key Blue Hills institutions and initiatives, including:
$250,0000 for the Blue Hills Trailside Museum
$100,0000 for the Blue Hill Observatory and Science Center
$15,000 to improve the safety of trail crossings on Routes 28 and 138
If you are in the district of any of these legislators – please send them an email to thank them for their efforts to support the Blue Hills!  (See below for details.)
While it is important to take a moment to celebrate, we also know there is much work still be to done.  Most notably, the budget shows another decrease in funding for all environmental agencies, including the Department of Conservation and Recreation, the agency that manages the Blue Hills and all state parks.  Thanks to the Environmental League of Massachusetts for this rather sobering graph showing the decline of funding for DCR since 2009: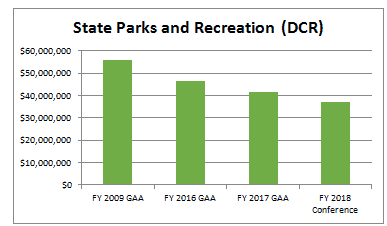 How You Can Help
You can help to continue support for the Blue Hills by emailing the below state legislators to thank them for their advocacy for the Blue Hills!  It's especially helpful if you're in their districts!  Check to see who your state legislators are.
State Senator Walter Timilty (Walter.Timilty@masenate.gov), and State Representatives Bill Dricoll (William.Driscoll@mahouse.gov), Bill Galvin (William.Galvin@mahouse.gov), Dan Cullinane (Daniel.Cullinane@mahouse.gov), Bruce Ayers ( Bruce.Ayers@mahouse.gov), Mark Cusack (Mark.Cusack@mahouse.gov).